THE NORDIC WALK & REST SEAT.
COMFORTABLE TO USE FOR YOUR VISITORS.
EASY TO HANDLE FOR YOUR STAFF.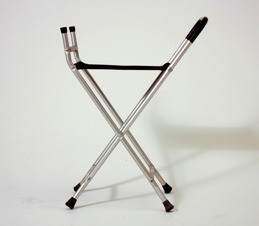 Sturdy to sit on.
Easy to carry around.
A mere 1,250 grams – that is how little our visitors chair weighs. Yet it is very sturdy. Besides, it is equipped with non-slip rubber feet – just in case.

The low weight makes the seat easy to carry around for your visitors. Thanks to its high sitting position (500 mm) it is comfortable to use also for the elderly.
FACTS ABOUT THE CHAIR
Weight: 1,200 g
Sitting height: 500 mm
Total height: 860 mm
Canvas seat: 355 x 200 mm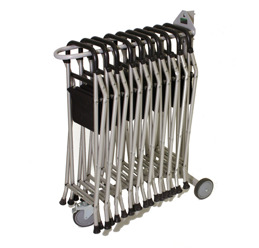 Comfortable to handle and store.
Thanks to its low weight, The Nordic Walk & Rest Seat is easy for your staff to handle.

The handy trolley can be used for moving the seats as well as for storing them. The trolley is easy to move around, and one of its three wheels is lockable.
FACTS ABOUT THE TROLLEY
Weight: 8,100 g
Length: 700 mm
Width: 400 mm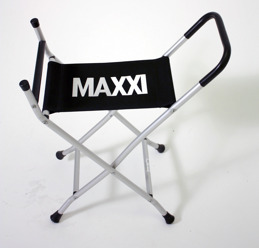 Hardened aluminium with canvas seat.
Our foldable visitors chair is made of hardened aluminium, with black seat as standard. Painted tubes are offered as an option, as well as canvas seats in other colours.

You may purchase our seats in sets of 10 including a trolley, or any number of seats without trolley.
New: Now you can have your logo printed on the canvas seat – just as Maxxi, the new national museum of Rome. Ask for an offer!